The Wedding Album
This is the base wedding album, included in my wedding packages.
(A La Carte: $1250)
Printed on archival photographic papers and handcrafted with great attention to detail, this high-end flushmount album features beautiful cover options and personalization.
Printed on archival photographic papers and handcrafted with great attention to detail, this high-end flushmount album features beautiful cover options and personalization.
Each album is handcrafted using archival materials and is guaranteed for life by my album supplier. I design each album with the story of your individual wedding day in mind. You have complete control over which photos you'd like to include and the overall design.
10×10 flushmount album with thick (1mm+) layflat pages

Your choice of a linen or silk cover from the Fabric or Coastal Linen collections

— or upgrade to a sumptuous Leather or Luxe Linen cover.

Your choice of semi-matte or lustre photographic paper

These albums have a minimum of 10 spreads (20 pages), but that's never enough to tell an entire wedding story, so I've included 15 to help you showcase more of your wedding photos. If that's still not enough, you can add more as needed (up to 40 spreads).
Designing Your Wedding Album
Your album will be designed using your favorite images.
As soon as you receive your gallery, you can start marking the photos that are your favorites so I can consider these first when I begin the album design. (Just so you know, I may not be able to include all of your favorites into the design.)
You'll be invited to virtually flip through the pages of your album on my proofing website.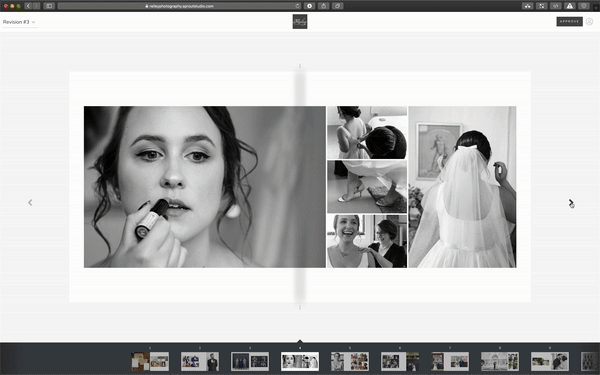 There, you can click anywhere on a page to leave a comment.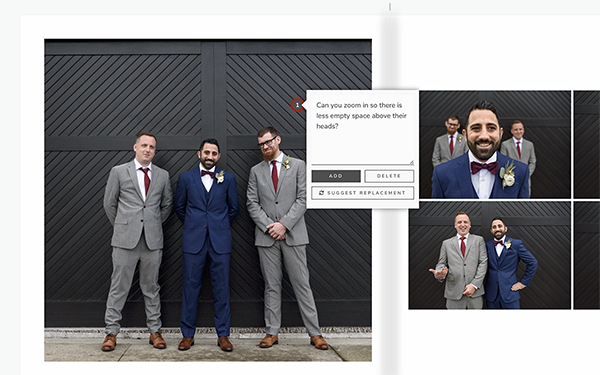 You can even suggest replacement photos directly from your gallery.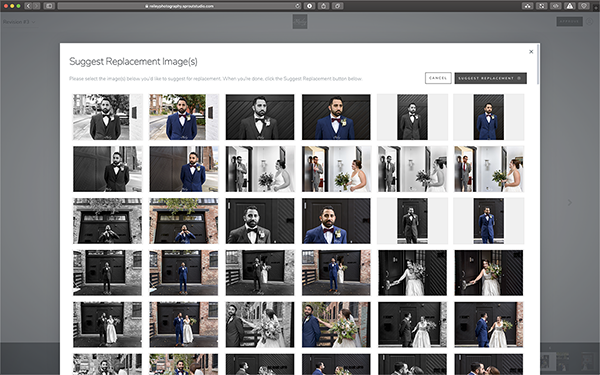 When you are happy, click to approve your final album design.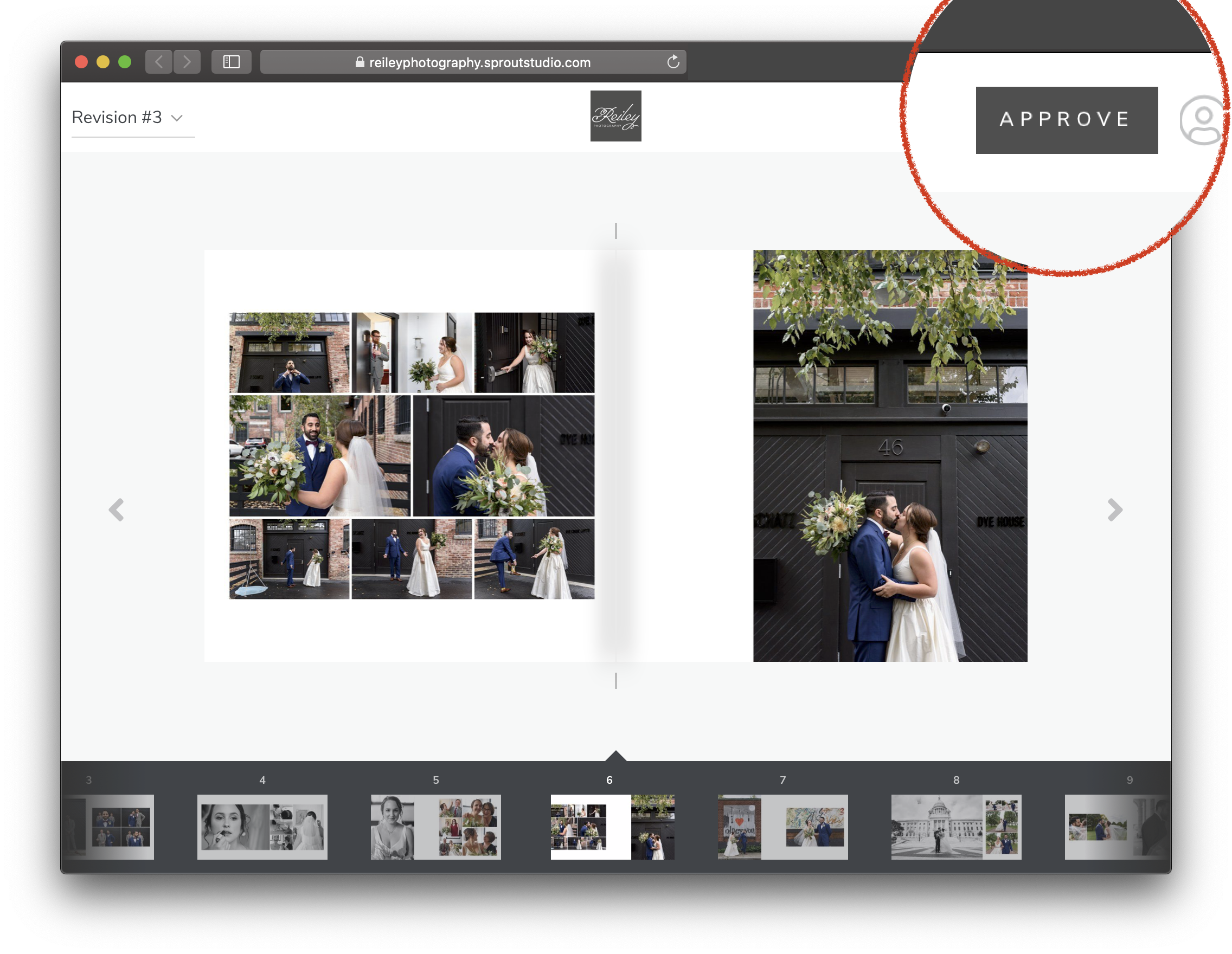 You can request as many changes as you like, but for efficiency's sake, please be sure you have entered all of your feedback before submitting your comments. You'll be able to review the updated design and request a second round of changes, if necessary. Once you are satisfied with the design, click to approve the album so I know that it is ready to print.
Customize your cover by submitting the order form at the bottom of this page.
You can make  your cover material and style selections using the form at the very bottom of this page. I'll review your requests and send you a proof of your album cover.
Finally, I'll send you an invoice for any optional upgrades you may have chosen, if necessary. Your album will be sent to print as soon as all balances have been paid in full and I have approval for design of both the cover and the page design.
Once all of this is complete, your album should be in your hands in about 6 weeks.
Square: 8×8, 12×12 (+$100)
Vertical: 8×10, 9×12 (+$100), 11×14 (+$150)
Horizontal: 10×8, 12×9 (+$100), 14×11 (+$150), 15×10 (+$200)
Your love story isn't limited to just 15 spreads. Add up to a maximum of 40 spreads total.
Including sumptuous full-grain leathers and fine linens in dozens of colors. These albums are as lovely to touch as they are to behold.
Imprint your album cover with your names and wedding date, a custom design, or anything else you'd like.
Duplicate Albums 40% off a la carte
Mini Albums $350
When added to order of wedding album with same design and materials. Debossing and Cover Cameos are not available on mini albums.
NOTE: Some of the Luxe Leathers show a slightly darker tone in areas that are imprinted (primarily seen on Latte, Chai & Camel – sometimes noticeable on Vino, Alpine & Fog).
* indicates NO DEBOSSING AVAILABLE
Coastal Linen
(included with Base Album)
Fabric
(included with Base Album)
* indicates NO DEBOSSING AVAILABLE
You can personalize your album by stamping your names (or whatever text  you'd like) onto the cover. This is called debossing. With standard debossing, each letter is individually hand-set and imprinted on your cover, with room for up to two rows of text.
Standard debossing can accommodate all caps, all lowercase, or a combination of the two. Please note: Certain characters are not possible to deboss because there is no stamp available for them. I will notify you if there are any issues.
Custom Debossing
Small (4″x2″) $200
Large (7″x3″) $300
For even more versatility, a custom stamp can be made to imprint your cover. This gives you the freedom to use additional fonts and sizes, or even your own custom designs.
You can use the font tool below to preview some of the fonts I have available.
If you wish to supply me with your own custom artwork to be imprinted, your design must fit into a 4″x2″ or 7″x3″ area.
Enter your own names (or whatever text you'd like) in the box above to preview how they might look using some of my available fonts. This is for your reference only, it is not an actual design proof.
If you choose a Luxe Linen cover, you also have the option of adding foil to your imprint. (Foil is not available for other cover materials.)
You can add foil to both Standard Debossing and Custom Debossing styles. Color options include gold, silver, and rose gold.
Cameos are a simple way to personalize your album with a photo on your cover. Choose a cover material that matches the tones in your photo to really enhance your album.
Album Cover Selection Form
Use this form to send me your album customization selections. I'll review your selections and create a proof of your album cover for you to review online. You will be able comment on the proof and request changes, just like the pages of your album design. Be sure to click the "approve" button once you are happy with your album cover.
Tip: If you are torn between two different options for your album cover, you can submit this form twice (one time for each option.) I'll put together two separate album cover proofs for you to review so you can approve the one you prefer. (If you need to see more iterations, there will be a $15 surcharge for each additional proof.)